TAO has been operational since October 2001, with regular FTIR measurements commencing in May 2002. The geographic location of TAO in downtown Toronto makes it well suited for measurements of tropospheric pollutants. The TAO DA8 is coupled to a dedicated altitude-azimuth suntracker (manufactured by AIM Controls Inc., California, which is housed in a weatherproof enclosure and provides continuous active solar tracking throughout the day. The FTIR is complemented by a commercially available weather station that records local meteorological variables and by a Brewer spectrophotometer, on loan from Environment Canada since 2005.

Like the other DA8 instruments listed below, this FTIR is a modified Michelson interferometer with a maximum optical path difference of 250 cm, providing a maximum apodized resolution of 0.004 cm-1. It is equipped with KBr and CaF2 beamsplitters, and InSb and HgCdTe (MCT) detectors, for coverage of the spectral range from 750 to 8500 cm-1. The system is also equipped with six narrow-band optical interference filters that are widely used in the NDACC Infrared Working Group. The table below summarizes the trace gases commonly measured with this filter set, both detectors, and the KBr beamsplitter. Built-in globar and quartz halogen sources, as well as an external blackbody, are used during instrument characterization. FTIR solar absorption spectra are recorded under clear sky conditions, allowing for approximately 80-100 observation days per year. Measurements are semi-automated, involving an operator at start up and shut down to engage the suntracker, cool the detectors with liquid nitrogen, and initiate an automatic measurement sequence. Periodic measurements of the instrument lineshape are made using a standard NDACC HBr cell to characterize the phase error and modulation efficiency as a function of optical path difference.
Filters Used and Chemical Species Retrieved by the TAO FTIR
NDACC Filter
Wavenumber (cm-1)
Wavelength (μm)
Chemical Species*
1
4000 - 4300
2.3 - 2.5
HF, CO
2
2900 - 3500
2.6 - 3.3
C2H2, HCN, H2O & isotopes
3
2400 - 3100
3.3 - 4.1
CO2, H2O, HCl, O3, N2O, CH4, NO2, C2H6
4
2000 - 2700
3.9 - 5.0
OCS, CO, N2
5
1500 - 2200
4.7 - 6.3
NO, COF2, CO
6
670 - 1351
7.4 - 15
C2H2, C2H4, ClONO2, O3, N2O, HNO3, NH3, CCl2F2, CHF2Cl
*currently retrieved species in bold
Altitude-dependent volume mixing ratio (VMR) profiles are retrieved from the spectra using SFIT2, a profile retrieval algorithm that employs the Optimal Estimation Method (OEM). The OEM is a regularization method that retrieves VMR profiles from a statistical weighting of the a priori information and the measurements. The averaging kernel matrix produced during the iterative process is used to characterize the information content of the retrievals. The VMR profiles are converted to density profiles using temperature and pressure profiles and integrated to yield the total and partial column densities.

The TAO FTIR was certified as an NDACC instrument in 2004 based on the results of a refereed algorithm and data comparison exercise. The quality of the DA8 data was also assessed in a subsequent intercomparison campaign involving two additional lower-resolution FTIR instruments. TAO data have contributed to the validation of SCIAMACHY on Envisat, OSIRIS on Odin, and ACE-FTS and MAESTRO on ACE. The first detection of NO in the mesosphere and lower thermosphere using ground-based FTIR spectroscopy was made using data from TAO and Eureka, and we have investigated the impact of the choice of vertical grid on profile retrievals using FTIR spectra.
TAO DA8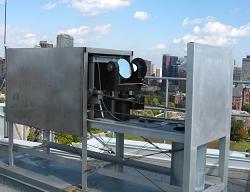 TAO Suntracker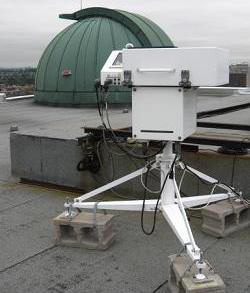 TAO Brewer