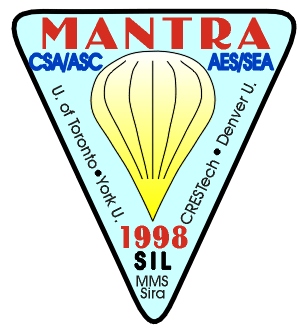 MANTRA
Middle Atmosphere Nitrogen TRend Assessment
A Balloon Mission to Investigate Changes in the Odd-Nitrogen Budget of the Stratosphere

Status - Balloon finally landed on Mariehamn Island, Finland on September 2.

Successful Launch - 3:25 AM, Monday, August 24, 1998.

Photo Gallery (With photos from Vanscoy, Finland, and Toronto)

Mission Overview

Mission Description Document

Science Team

Current Schedule

Press Releases and Media Stories

Environment Canada MANTRA WWW Site

Related WWW Sites

MANTRA 2000 Home Page

MANTRA 1998 is supported by




3102 visits between May 4, 1998 and August 16, 2000.
Maintained by: Kimberly Strong
Last updated: 3 December 2008